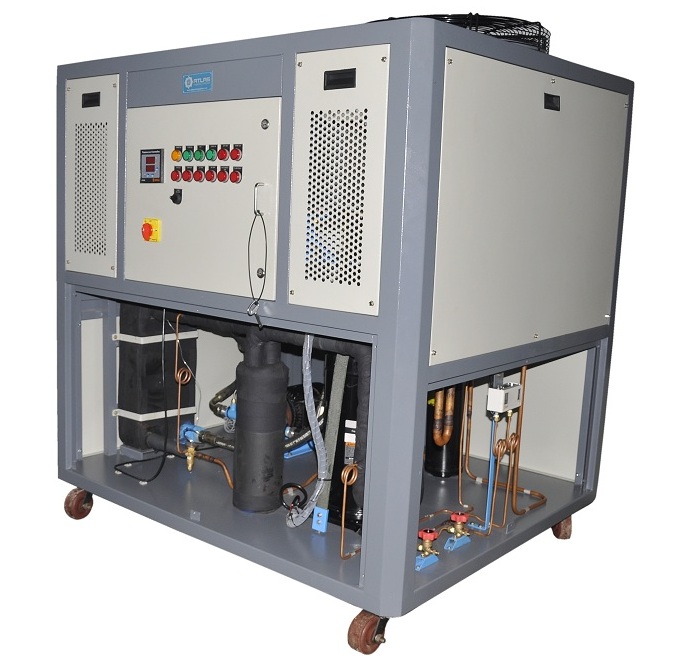 The unit which performs cooling of various types of oils such as hydraulic oil, lubricating oil and cooking oil in certain machine tools is called an oil chiller. Certain big machines use bearings and gears which become overheated and thereby resulting in thermal deformation due to high rotational impact. Then the displacement of machine parts effect the efficiency and accuracy of machine. Also, as a result of continuous overheating the oil may degrade and affect the machine. They are commonly used in automobile industry, aerospace industries, power plants, etc.
Advance Cooling Hydraulic Oil Chillers are utilized to keep up exact oil temperature in the power packs which are utilized in water-driven frameworks of CNC machine instruments, rapid presses and pressure-driven fueled specific reason machines and pressure-driven gear.
Chillmax Technologies holds years of expertise for hydraulic oil chiller manufacturers in India, glycol chiller manufacturers in India, and supplier of oil chillers that are used to reduce the fast heat generated during machinery functioning. Our oil chilling units are mainly employed in applications such as cutting lubrication, hydraulics, honing, grinding, broaching, drilling, etc. Oils in mechanical functioning needs to be within range of temperatures to retain its chemical and physical properties, thereby increasing the efficiency of machinery and its function. We manufacture oil chillers with immense care and adopting latest techniques to ensure they fit the requirements of our clients. We supply our oil chilling units to various cities in India including Ahmedabad, Bangalore, Delhi, Chennai, Hyderabad, Pune, Mumbai, Kolkata, Coimbatore and other major cities.
We offer oil chilling units in two configurations. They are standalone and immersion type. In standalone configuration, oil recirculating pump is integral with chiller and in immersion type, the evaporator coil is directly dipped into the oil sump. With best in class material used in manufacturing, our products are proud to hold features like high-efficiency, reliability, quality and safety. To ensure our clients get the best product, it is tested at every stage of manufacturing. To be more competitive in the market and to help our clients build their businesses, we are more competitive in price fixation.
Oil Chillers are used in variety of industries where we find application. They are
Hydraulic presses.
Deep hole drilling applications.
Honing and machine tools.
Spindle head cooling and die cast machines.
Injection moulding and component quenching.
Food industries.
Advantages of oil chillers are
Eco friendly.
Wide range of operating temperatures.
Lesser maintenance.
Contamination free.
Temperature controllability.
Our systems are built to handle wearing of tools, multiple equipments, narrow temperature ranges, low exiting temperature under low ambient conditions and corrosive environments. To prevent oil contamination and to ensure safety brazed plate evaporators, stainless steel pumps and tanks and brazed copper plumbing are used. We offer immediate service to our clients and installations through a dedicated service team in case of any breakdowns or failures. Kindly contact in case of any enquiries and we are always happy and ready to help and serve you the best we can.
Oil Chillers Manufacturers in India
A small radiator that can be installed in front of an automobile's cooling system is known as an oil chiller. It helps to reduce the oil temperature as it flows through. This chiller can be used on high-stress transmission oil and only functions when the motor is operating. If your vehicle's cooling system is mainly based on air, an oil chiller can provide several additional benefits. If you are searching for oil chiller manufacturers, contact Chillmax Technologies now! We are one of the leading oil chiller manufacturers in India.
Oil chillers, which are used in addition to regular coolers, provide some of the finest benefits for heavier vehicles and put more strain on the drive train. Since most transmissions and engines are designed to accommodate an oil chiller after purchase, the installation of the oil chiller is quite simple.
To use your extra oil chiller, you'll need up to two quarts more oil at each oil change. However, for the safer running of your engine and the possibility for increased longevity, this is a minor price to pay. Contact Chillmax Technologies for more information on the benefits of oil chillers and purchase at the best prices available!